No. BR14700 / Type MA-1 & Type B-15C (MOD.) REVERSIBLE
究極のフライトジャケットとして君臨し続けるMA-1。それは航空機の発展と共に改良に改良を積み重ね進化を遂げてきたジャケットである。機能性と耐久性、そして運動性に富むMA-1は、それまでの常識を覆すジャケットとして1950年代に登場した。そのMA-1は採用されてからも更に進化し続け、1961年のスペックMIL-J-8279C (Cタイプ)からリバーシブル仕様でオレンジライニングとなり緊急時に備えた。このジャケットはその画期的な機能を取り入れた、MA-1とB-15C(MOD.)のリバーシブル仕様となっている。通常、オレンジライニングのMA-1はウールパイルを固定させるため、裏地とウールパイルを2本針で縫い合わせ、最後に表地と結合させるが、このジャケットは言わば両面が表側であるが故にウールパイルを固定させるための2本針ステッチを入れる事は出来ない。しかし、この難易度の高い仕様は長年に渡って養われた技術を導入する事で見事に乗り越えた。バズリクソンズの英知と技術を惜し気も無く投入されたこのジャケットは、東洋エンタープライズの創業55年に送るスーベニアであり、我々の誇りを表すトレードマークも特別にステンシルされている。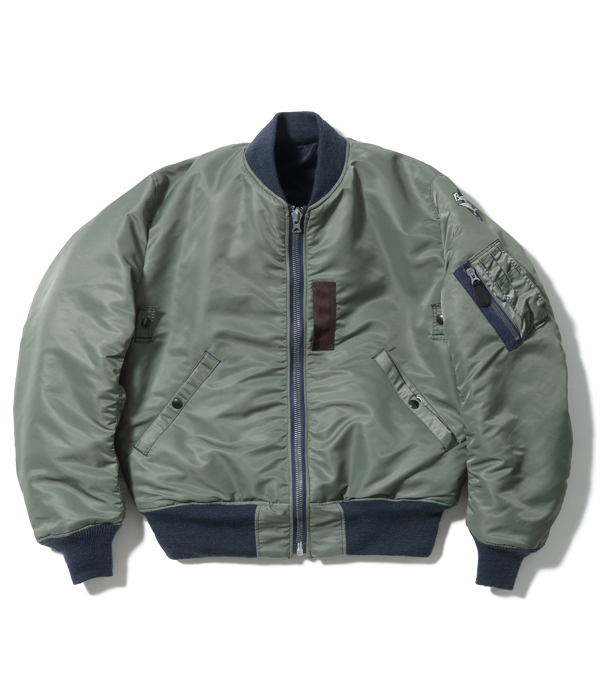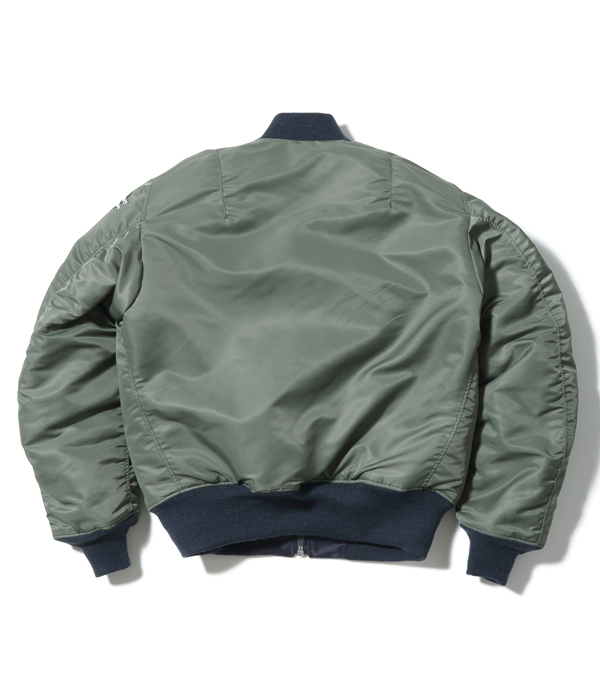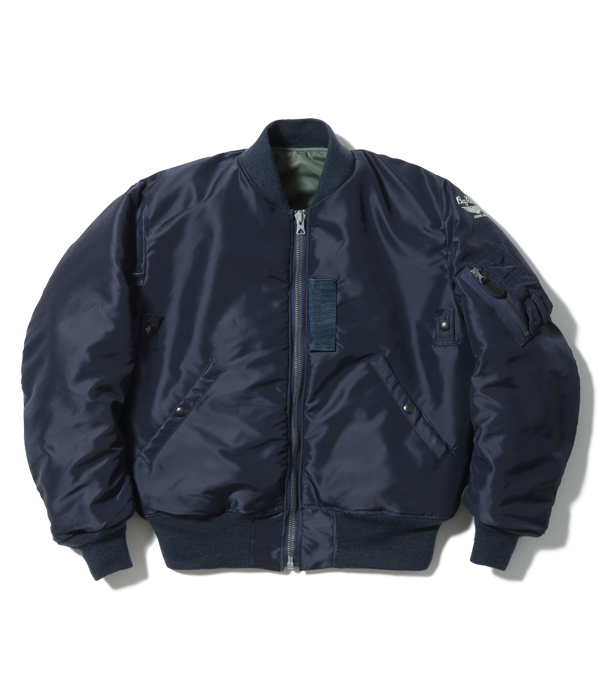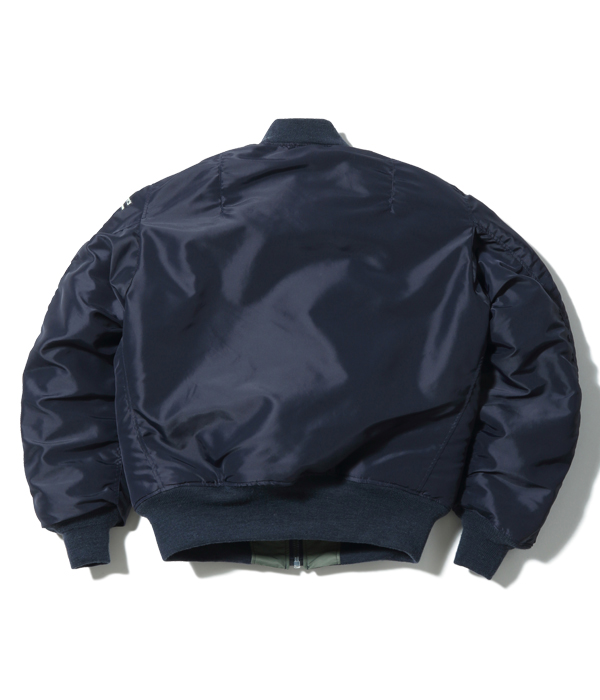 U. S. AIR FORCE / INTERMEDIATE ZONE
JACKET, FLYING, INTERMEDIATE / Type MA-1 & Type B-15C (MOD.) REVERSIBLE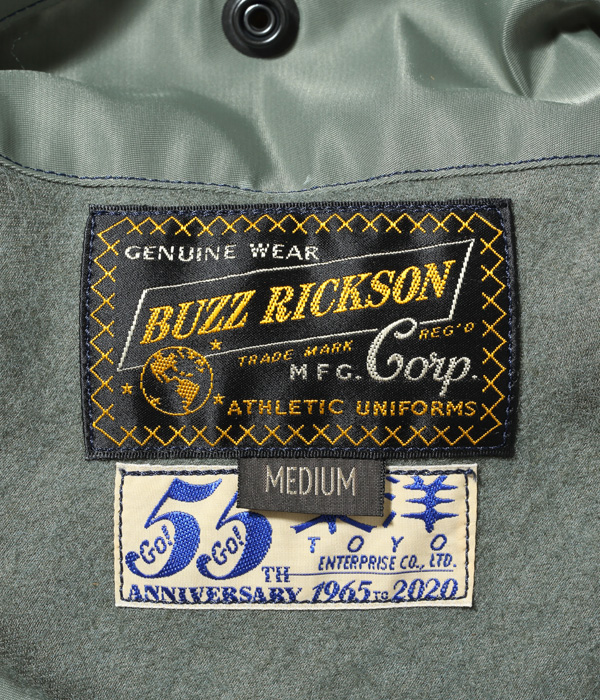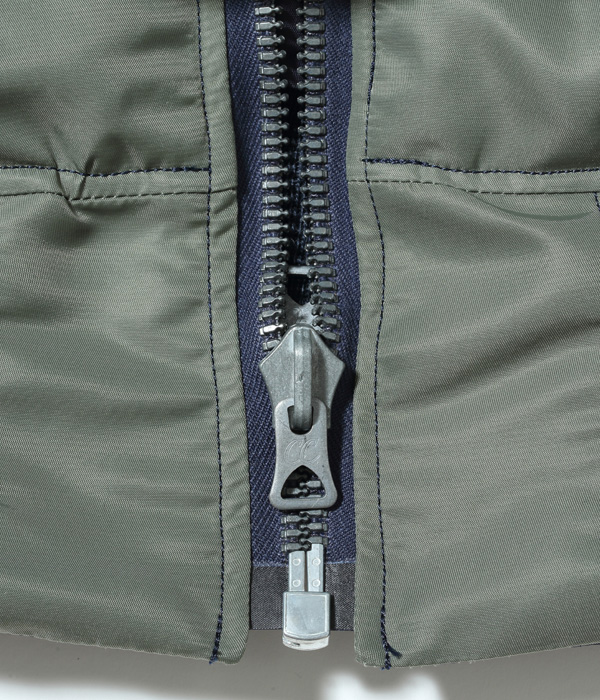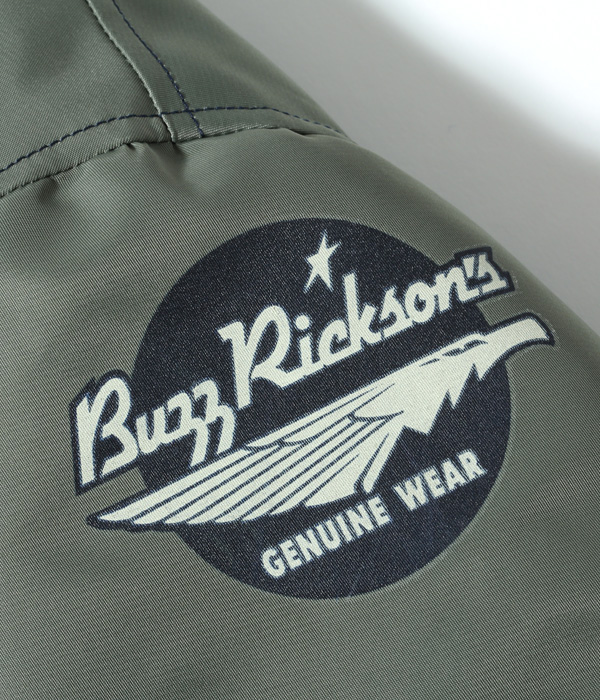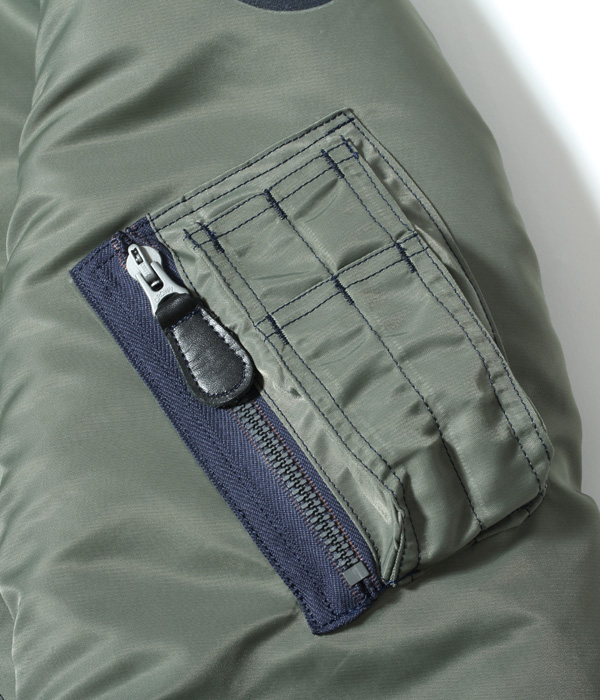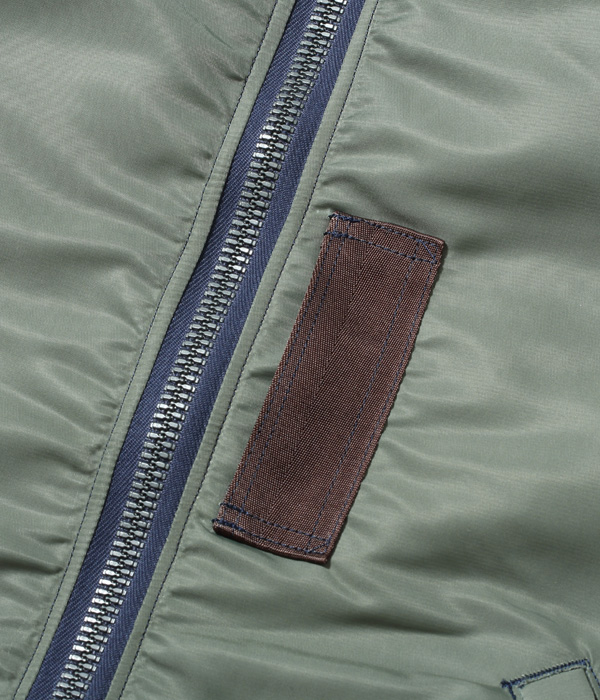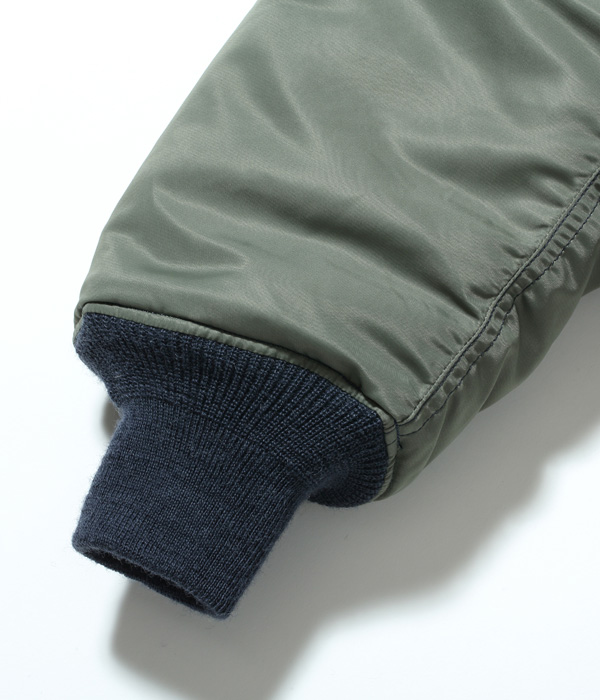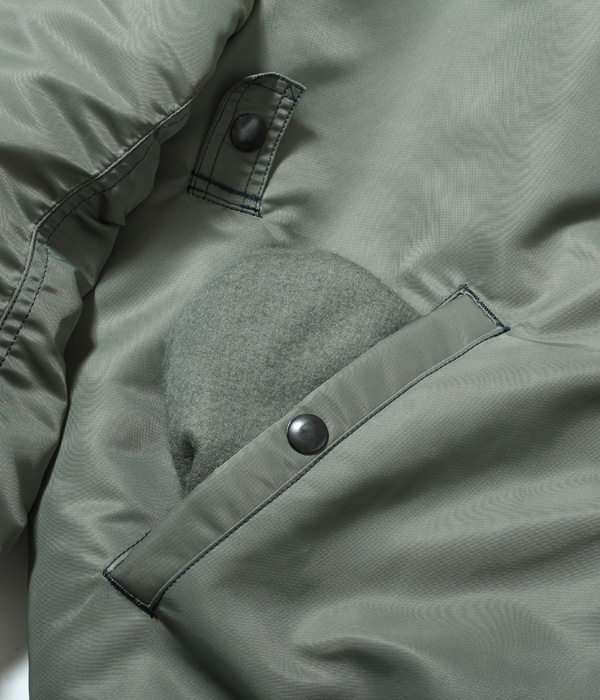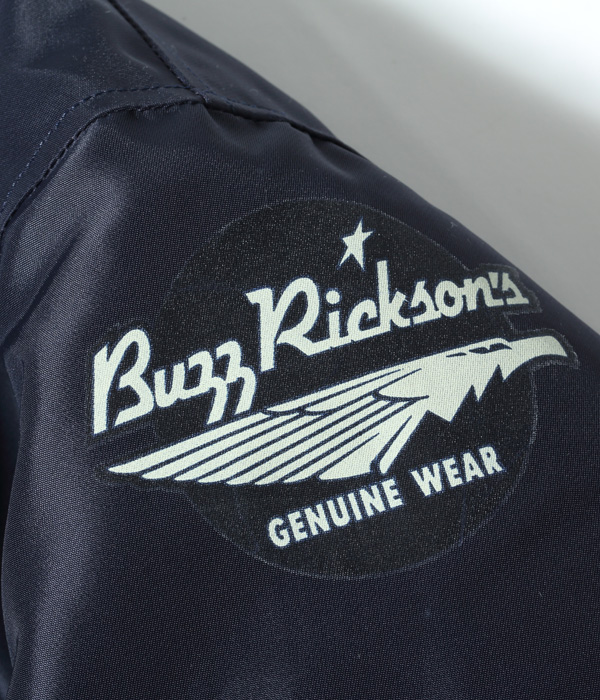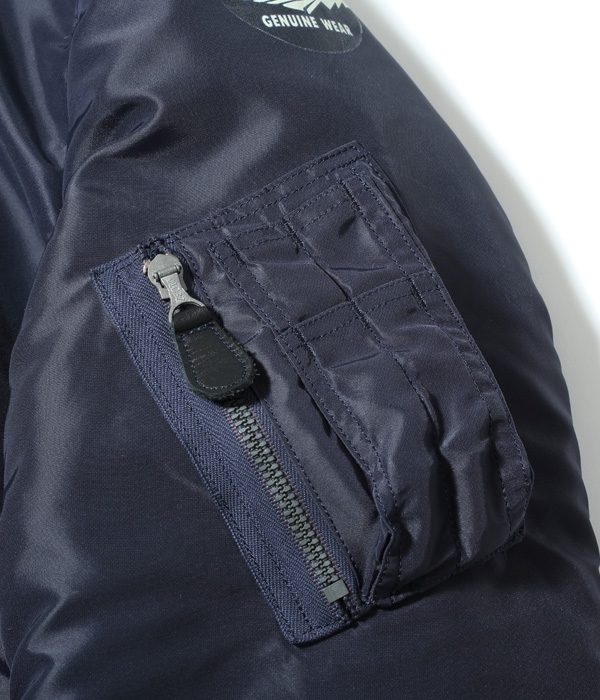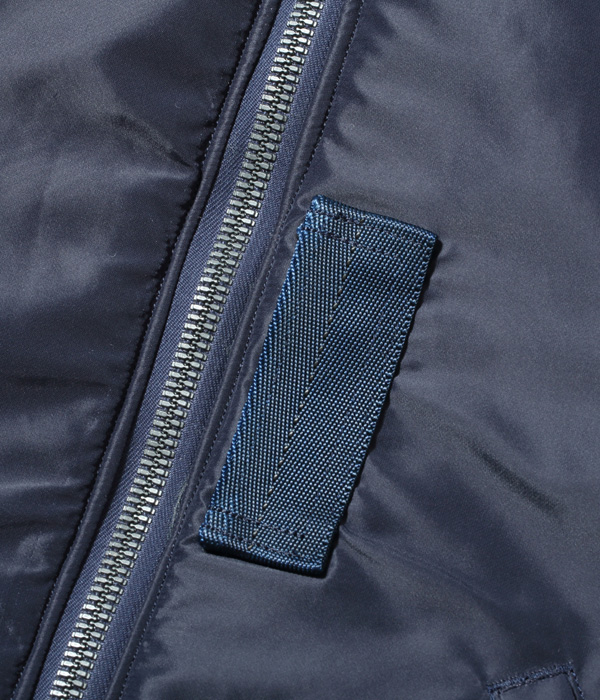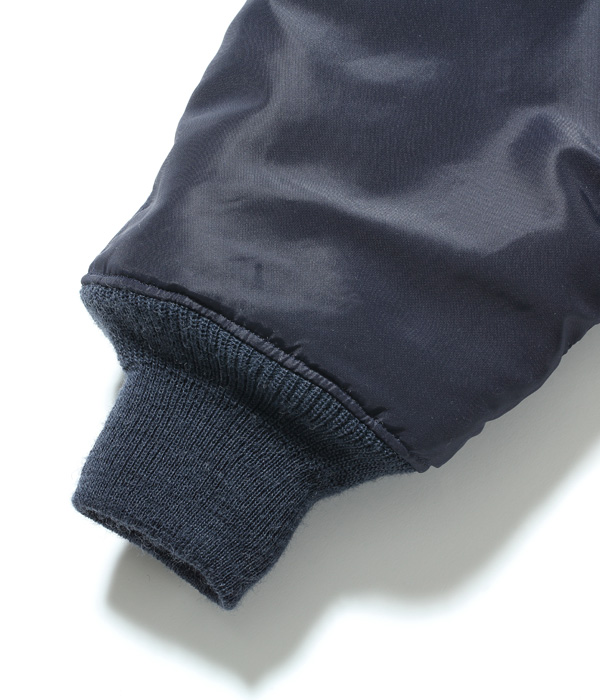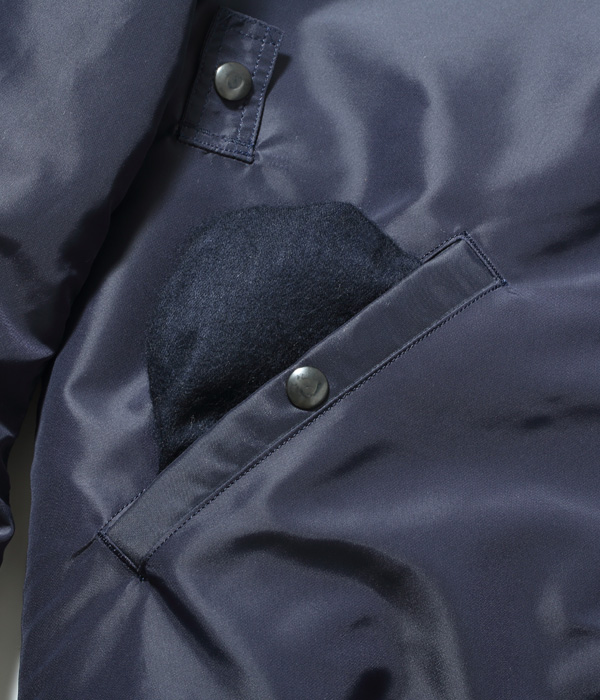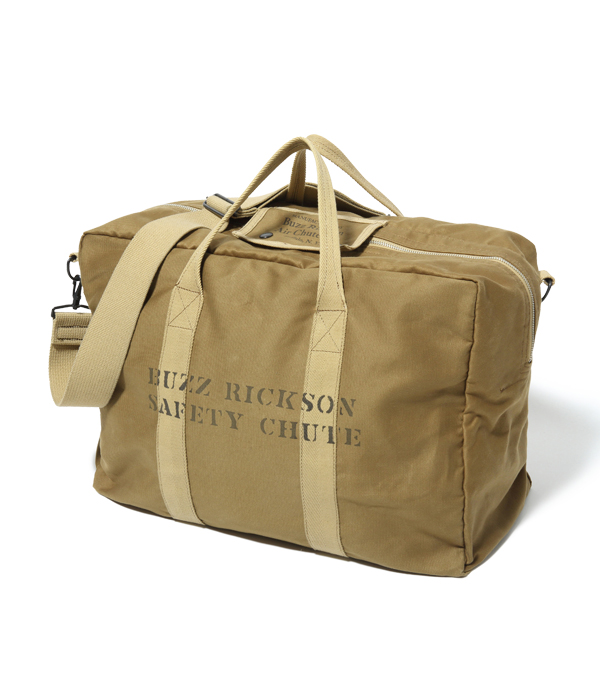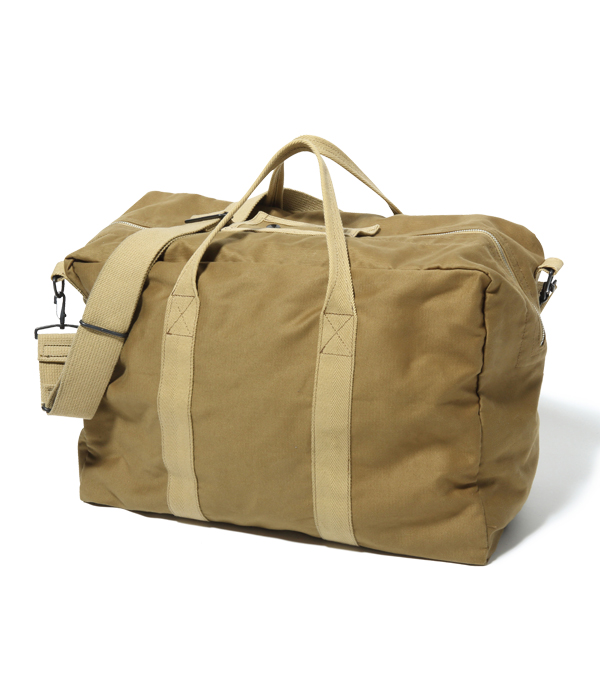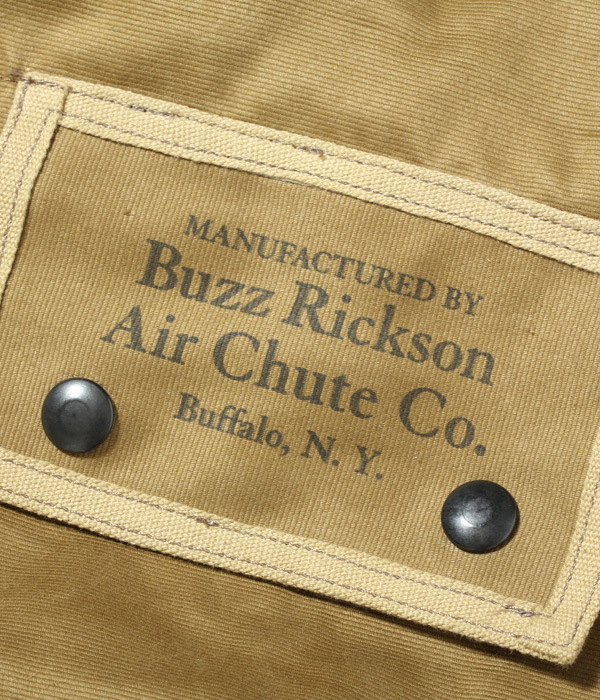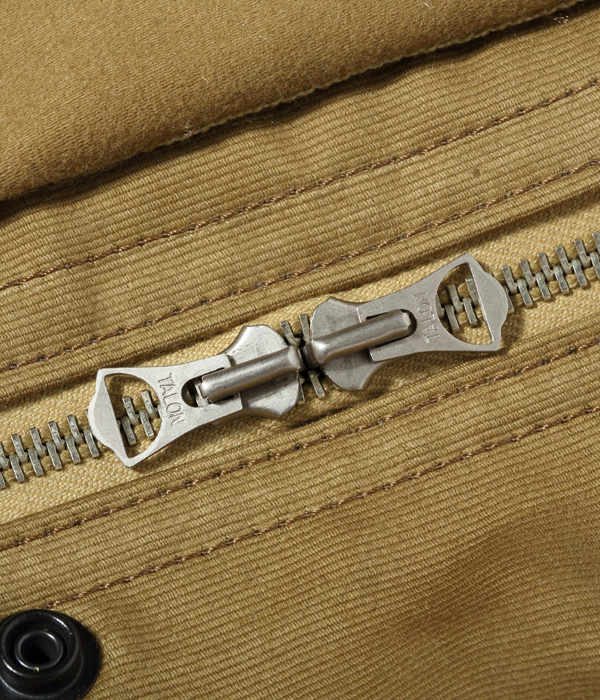 バズリクソンズラベルと東洋エンタープライズ社55周年記念ラベル。特別に転写されるバズリクソンズのステンシル。このジャケットに付属するグログラン製のオリジナルバッグ。第二次大戦中のパラシュートキットバッグがベース。
BUZZ RICKSON'S
No. BR14700 / Type MA-1 & Type B-15C (MOD.) REVERSIBLE
PRICE : ¥89,000 (+tax)
SIZE : XS, S, M, L, XL, XXL
COLOR : 01) S/GREEN×A.F.BLUE
MATERIAL :
Sage Green Side : 2/2 Heavy Nylon Twill
A.F. Blue Side : 3/1 Heavy Nylon Twill
INTER LINING : 58% Wool 42% Cotton Pile Undyed Natural Color
OUT SLASH POCKET :
Sage Green Side : 35% Wool 65% Rayon Double Face Brushed
A.F. Blue Side : 50% Wool 50% Nylon Double Face Brushed
MAIN FRONT FASTENER : Aluminum Reversible Usege
SNAP : U.S. Government Department of Defense Specs. Brass Black Oxidized
LABEL : Buzz Rickson Mfg. Corp./ Toyo Enterprise Co. 55th Anniv.
The MA-1 is widely considered as the ultimate flight jacket. Together with the development of military aircrafts, this jacket has continued to evolve over the years through an accumulation of improvements. The MA-1 first appeared during the 1950s as a jacket with excellent functionality, durability and mobility that had never been seen before. Since then, the MA-1 has continued to evolve, and from the 1961 military specification "MIL-J-8279" (Type C), it was redesigned to a reversible jacket with an orange lining to make it suitable for emergency situations. This special Buzz Rickson's jacket incorporates this innovative design, and features the reversible specifications of the MA-1 and B-15C (MOD) flight jackets. The lining and wool pile of an MA-1 with orange lining is normally sewn with two-needle stitching and finally attached with the outer material to firmly fix the wool pile lining. With this jacket, since both sides can be considered as front side, the wool pile could not be fixed using two-needle stitching. However, by adopting techniques that we have cultivated over the years, we were able to incorporate this highly advanced specification into the jacket design. This jacket, which is infused with Buzz Rickson's wisdom and technology, was produced as an anniversary model to commemorate the 55th year since the founding of Toyo Enterprise.