No. BR80489 / Type B-3 DUO TONE "ROUGH WEAR CLOTHING CO."
シープシェアリング・ジャケットの傑作、タイプB-3は1934年冬期用フライトジャケットとして正式採用された。豪華なシープスキンを用いたこのジャケットは首廻りを保護する大きな襟や、風の侵入を防ぐ締まったカフス、ウエストのアジャスターベルトなど、数あるシープスキン・フライトジャケットの中でもスタイル性、防寒性ともに完成度の高いモデルである。このB-3 はラフウェア社が製造していた初期モデルで、背中のカッティングパターンは戦争中期に大量生産された3 分割のものとは異なり、縫い合わせが縦一文字の2 分割仕様で、裁断効率において非常に贅沢な使い方をしている。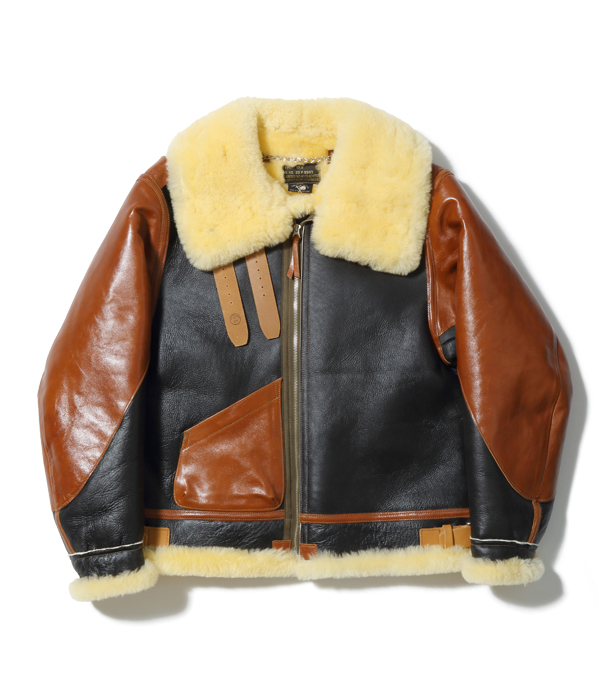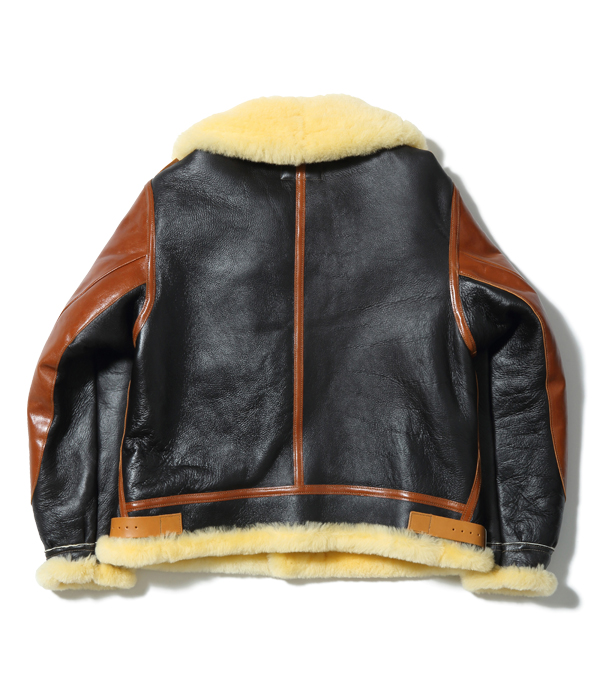 U.S. ARMY AIR FORCES / HEAVY ZONE
JACKET, FLYING, HEAVY/ Type B-3 DUO TONE "ROUGH WEAR CLOTHING CO."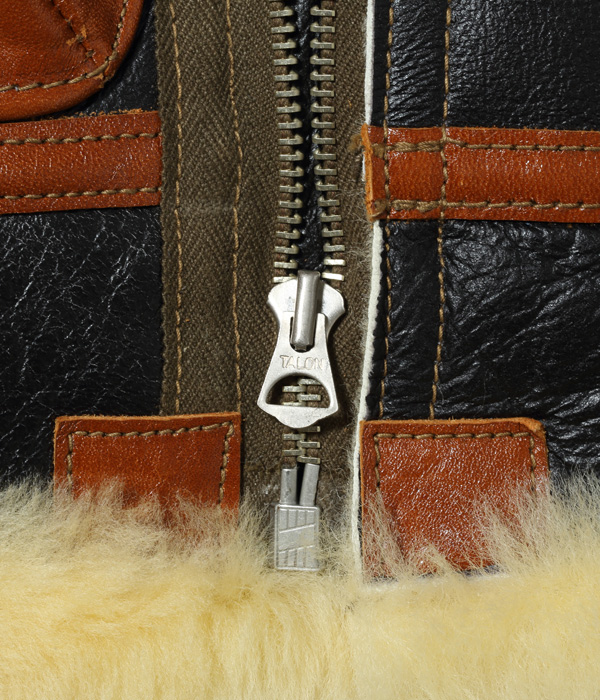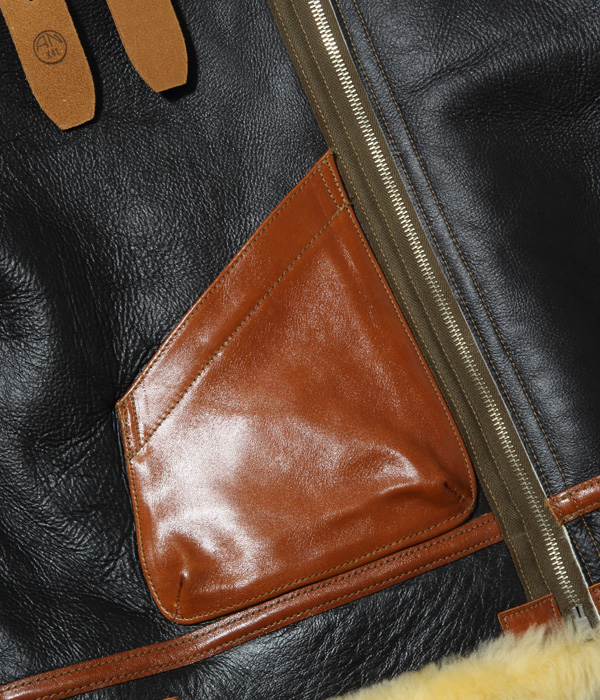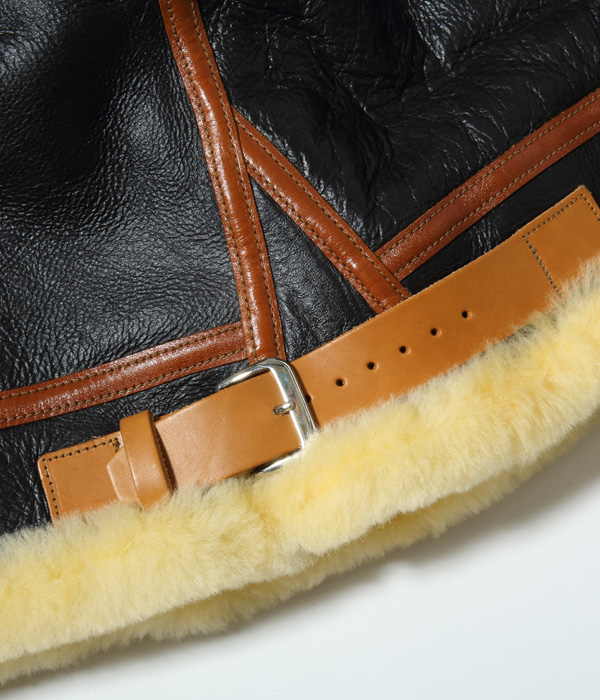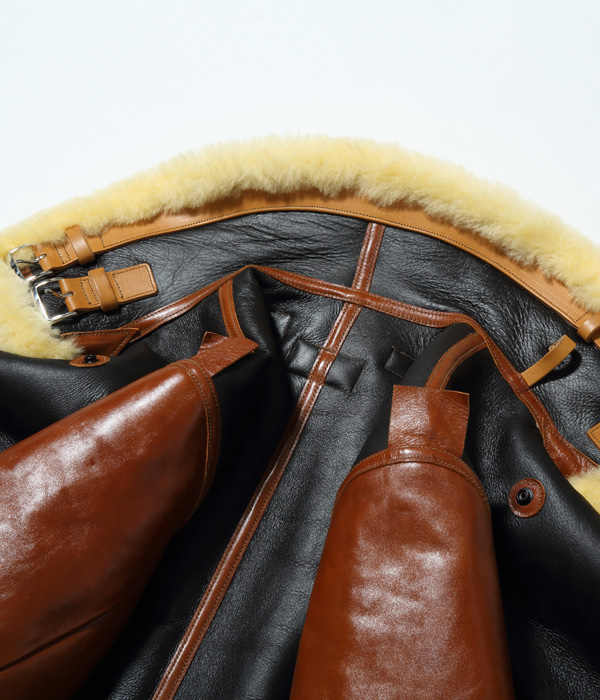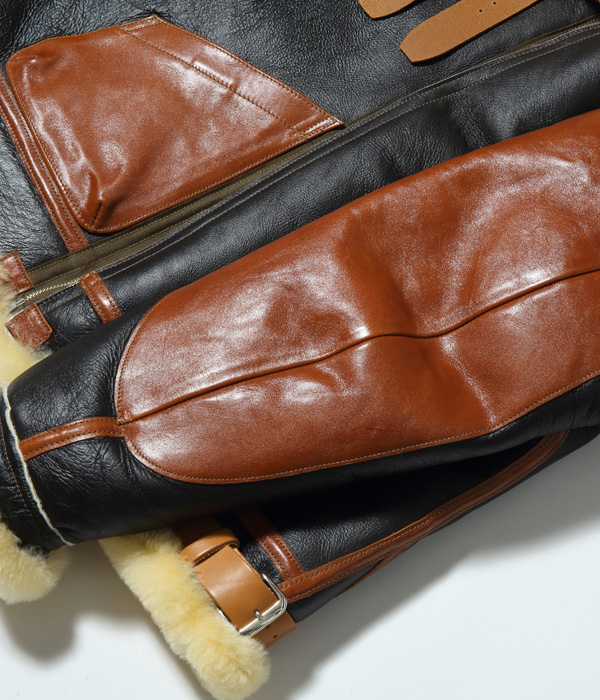 左肩に付く陸軍航空隊のインシグニアは有無の選択が可能。一般的なウエストベルトほどの長さを誇る贅沢な1本使いのベルト。カーブしたベルトパーツの裁断のため革の損失分も多い。背面のカッティングは逆Tの字型の3パネル仕様も存在するが、これは革の損失分が多い贅沢な2パネル仕様。
BUZZ RICKSON'S
No. BR80489 / Type B-3 DUO TONE "ROUGH WEAR CLOTHING CO."
PRICE : ¥270,000 (+tax)
SIZE : 34, 36, 38, 40, 42, 44
COLOR : 01) NO STENCIL , 02) COLOR STENCIL
MATERIAL : Sheepskin
TANNING : Chrome
FINISH : Lacquer
LEATHER PARTS : Vegetable Tanning Horse Hide
FASTENER : Talon Mil Specs Nickel Finished
BELT BUCKLE : Solid Brass Chrome Finished
BELT PARTS : Vegetable Tanning Cowhide Aniline Finished
SNAP BUTTON : U.S. Government Department of Defense Specs.
LABEL : Roughwear Clothing Co.
The Type B-3 jacket, a shearling masterpiece, was officially adopted in 1934 as a flight jacket for the winter. Of the many sheepskin flight jackets out there, this gorgeous jacket was designed with a high level of perfection in both style and warmth, including a large collar to protect the neck, fitted cuffs to keep out wind, and waist adjustment belt. This B-3 is a revival of an early B-3 model made by Rough Wear. Unlike the three-piece back during mid-World War II, this jacket has the vertical seam down the middle found in earlier models. Sheep are small animals compared to horses or cattle. Therefore, using large cutting patterns to cut sheepskin as in this type results in considerable unused leather. In other words, this B-3 is an extremely luxurious jacket.